INTOMED Training Course
Primer on microbiome analysis (with amplicon sequencing of phylogenetic marker genes)
20 – 24 April 2023
Department of Biochemistry & Biotechnology, University of Thessaly, Biopolis Campus, Larissa, Greece
Course Overview
The enormous microbial diversity found in most habitats is currently acknowledged. Sequencing of amplicons of phylogenetic marker genes currently comprises the dominant methodology for analyzing microbial diversity in such habitats, owing to its high-resolution ability and its capacity to capture most of the existing diversity as opposed to methodologies of the past era. During the workshop, the students will be introduced to past and current methodologies for studying environmental microbial diversity, building the case around the need for high throughput sequencing of phylogenetic marker gene amplicons (currently, commonly referred as "metabarcoding" methodology) in such studies. A thorough description of all necessary steps for designing and performing microbial diversity analysis with metabarcoding will be provided. Students will also be introduced to computational tools in the field of big-data science, like the R programming/statistical environment, necessary for handling the volume of sequencing data generated in such approaches. Then, they will be walked through strategies in statistical analysis, suitable for extracting important and reliable information from "noisy" environmental datasets. Finally, the students will obtain hands-on experience with the aforementioned tools and statistical strategies that will facilitate the design and execution of their future experiments.
Who is this course for?
The course is aimed at early-career (Molecular) Microbial Ecology and Environmental Microbiology researchers.
What will I learn?
Familiarize with basic and advanced concepts of diversity analysis with metabarcoding
Obtain basic knowledge about the R platform
Be able to use R for performing all necessary quality control and bioinformatics steps during the processing of metabarcoding data
Be able to perform basic descriptive statistical analysis on metabarcoding datasets
Comprehend important strategies for winnowing primary datasets to shake-off environmental noise and extract important for phenotypic traits microbial taxa.
What resources do I need?
All participants need to bring their laptops, a positive mood and a willingness to learn new methods in molecular microbial ecology. The host will provide additional course material.
Course Format
The course will involve theoretical modules and computational analysis. During the course, the trainers will be available to provide support and answer questions.
PROGRAMME
April 20

Background on microbiome analysis with high metabarcoding & R/RStudio basics
April 21

R/RStudio basics hands-on, and hands-on at microbiome analysis with R
April 22

Microbiome analysis with R (hands-on)
April 23

Microbiome analysis with R (hands-on)
April 24

Microbiome analysis with R (hands-on & wrap up)
APPLICATION
Applications are now closed!
Maximum number of participants: 20
If you have any questions regarding the application process as well as the Training Course in general, please contact us at kalpapad@bio.uth.gr.
ADDITIONAL INFORMATION
Selection Criteria
Applicants will be selected based on their scientific background and research excellence. The organisers as well as INTOMED's project coordinators, will collaborate to make the selection aiming to maximize diversity and inclusivity.
All participants are asked to fully engage with the whole programme, enabling the best environment for networking, and developing new collaborations.
Spaces are limited (we have a maximum of 20 participants).
​
Fees
Course registration and participation is free.
​
Language of instruction & material
The Training Course will be conducted in English. All the appropriate course material will be distributed to all accepted participants prior to course commencement.
Trainer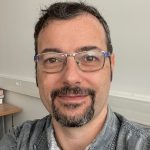 Sotirios Vasileiadis
Assistant Professor of Microbial Molecular Ecology/Genomics
sovasileiadis (at) uth.gr
RESEARCH INSTITUTIONS
Organisation:
University of Thessaly (UTH)
Department of Biochemistry & Biotechnology
Plant & Environmental Biotechnology Laboratory

Data Protection Notice
Before registering please be informed about the following:
Your data is going to be used by the organisers for the purpose of responding to the needs of organizing the INTOMED Training Course. The data controller is the University of Thessaly (UTH), who is responsible for the overall organization of the event, the online registration of the participants as well as the communication with the participants before and after the end of the course.
The purpose of the processing of your data is 1) handling participation requests, 2) reporting on the course, as well as 3) event follow-up actions, such as sharing presentations among participants and feedback collection.
The following data are processed:
Contact data, such as first name, last name, affiliation, occupation, e-mail address. The data collected will be deleted by the organizers unless you promptly agree that we can share your name, organization and email address with the other participants in the interest of facilitating communication among you.
Please note that the course will not be filmed or recorded. However, with your registration, you accept that you may be photographed on behalf of the organisers during the course and you authorize them to make free use of the photographs for dissemination purposes of INTOMED.
If you want us not to take photos of you, please contact us at kalpapad@bio.uth.gr.
UTH is compliant with all legal procedures in respect of personal data processing, as set out in the applicable European and national law, including the General Data Protection Regulation (EU/2016/679). We would like to inform you that you have the right to access, the right of information, correction, update, blocking and/or erasure of your personal data in accordance with the aforementioned EU Regulation and applicable national laws.
To exercise your rights, you may contact the organizers of the course at kalpapad@bio.uth.gr.